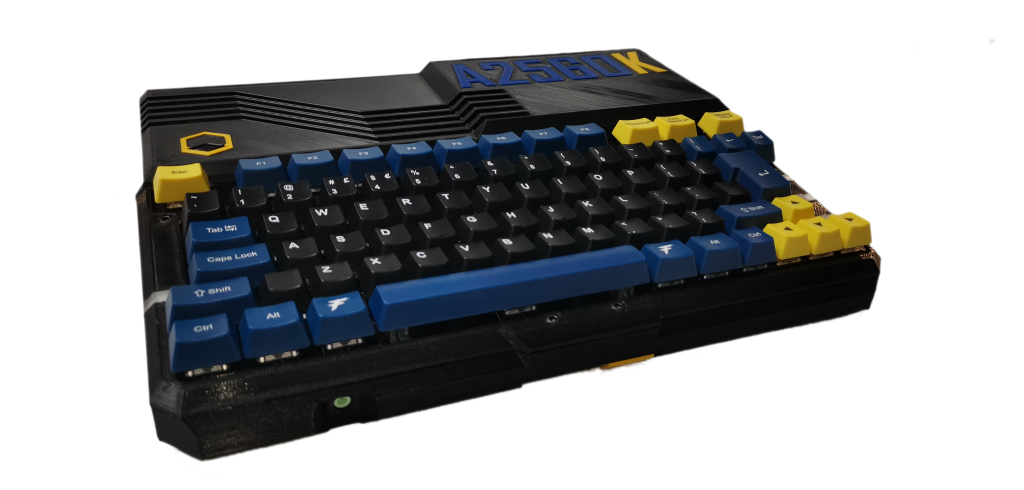 The A2560K Foenix is a full 32bits CPU system powered by a Motorola MC68040RC25V with integrated keyboard.

A2560K FOENIX 
Integrated Keyboard Version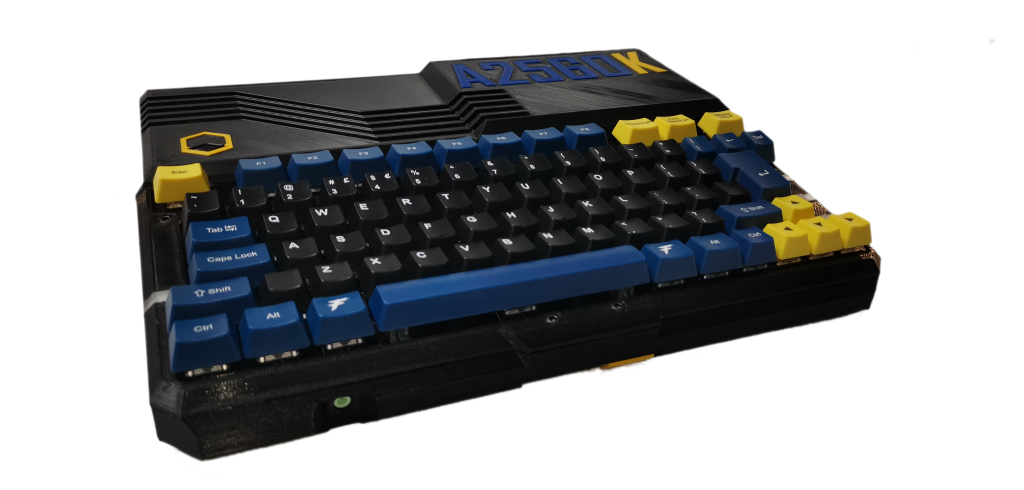 General Specifications
SYSTEM



Built-in CPU
MC68040V @ 25MHz
33Mhz/40Mhz Support will be available later.

32bits CPU Sub-system
4MBytes Static RAM – 4MBytes FLASH
System General Memory
64MBytes (16Mx32) of SDRAM Memory
VIDEO SUB-SYSTEM
Graphics Engine
VICKY III
Dual Head Graphics System
Resolutions
Channel A (Text Only)
Full: 800 x 600 @ 60Hz (100×75 with 8×8 FONT)
Full: 1024 x 768 @ 60Hz (128×96 with 8×8 FONT)




Channel B (Graphic + Text):
Full: 640 x 480 @ 60Hz – Pixel Doubling: 320 x 240
Full: 800 x 600 @ 60Hz – Pixel Doubling: 400 x 300
Full: 640 x 400 @ 70Hz – Pixel Doubling: 320 x 200

Color Depth
256 Colors – 8bits Per Pixel – For All Modes. (8x LUT)
Full Color – 24bits Per Pixel – Special Modes TBD*
Graphics Engine Features
2 Bitmap Layers
4 Tilemap Layers
64 Sprites
VDMA Engine (with blitter features)*
Hardware Bresenham line drawing Engine*
Enhanced text modes*
Etc…
*: New features that will be integrated in VICKY III
SYSTEM MISC



Media
3.5″ Floppy Drive
Full-Size SDCard
2.5″ HDD – 44pins IDE Connector Support (Laptop HDD)
Communication Ports
2x Full Support DB-9M RS-232 Ports
1x Full Support DB-25F Parallel Port
1x 10/100Mbits Ethernet Controller
Built-In Keyboard



80 Keys Keyboard with RGB Lighting
Joysticks
2x DB-9M Atari Style Ports with Analog Inputs
NES/SNES Expansion by using the SNES/NES Expander for the U/U+

Others
4 Prongs External  Dual Power Supply (Supplied)
Feature Selection Dipswitch
40mm Noctua FAN

AUDIO SUB-SYSTEM
Populated Chiptune Chips
OPM – YM2151 on Socket
OPN2 – YM2612 on Socket
PSG – SN76489 on Socket
OPL3 – YM262-M Soldered Onboard
Standard FPGA Chiptune Chips (always there)

1x Instance of OPM – YM2151
1x Instance of OPN2 – YM2612
2x Instances of PSG – SN76489 (Stereo)
2x Instances of Gideon SID (Stereo)
2x Instances of YM2149 (Stereo)

Unpopulated Sockets
2x SID with +9V/+12V power rail & Mono/Stereo select
Accessible Analog Input
Audio Sampling
Full ADC/DAC CODEC with 6 Inputs
2x Auxiliary DACs
Multi-Channel Integration in Hardware*
Supports



8bits/16bits Resolution
Mono/Stereo Mode
Sampling Rate: 48khz/44.1khz*/24khz*/22.05khz*
Memory to DAC SDMA Engine*
Misc
MIDI Connectivity
YM2612 & PSG audio level adjustment with POTs
Onboard 15W audio amplifier with speakers
RCA Stereo Line-In for Recording
RCA Stereo Line-Out
1/8″ inch Headphone Output Connector
*: New features that will be integrated.
Mechanical Specs
Enclosure Dimension
approx: W: 13″ x L: 9.6″ x H: 3″ (228.6mm x 228.6mm x 228.6mm)
Product Weight 
TBD
Enclosure Construction Materials



Sturdy 3D Printed Enclosure

Enclosure Color Scheme



Matte Black with colored Inlays