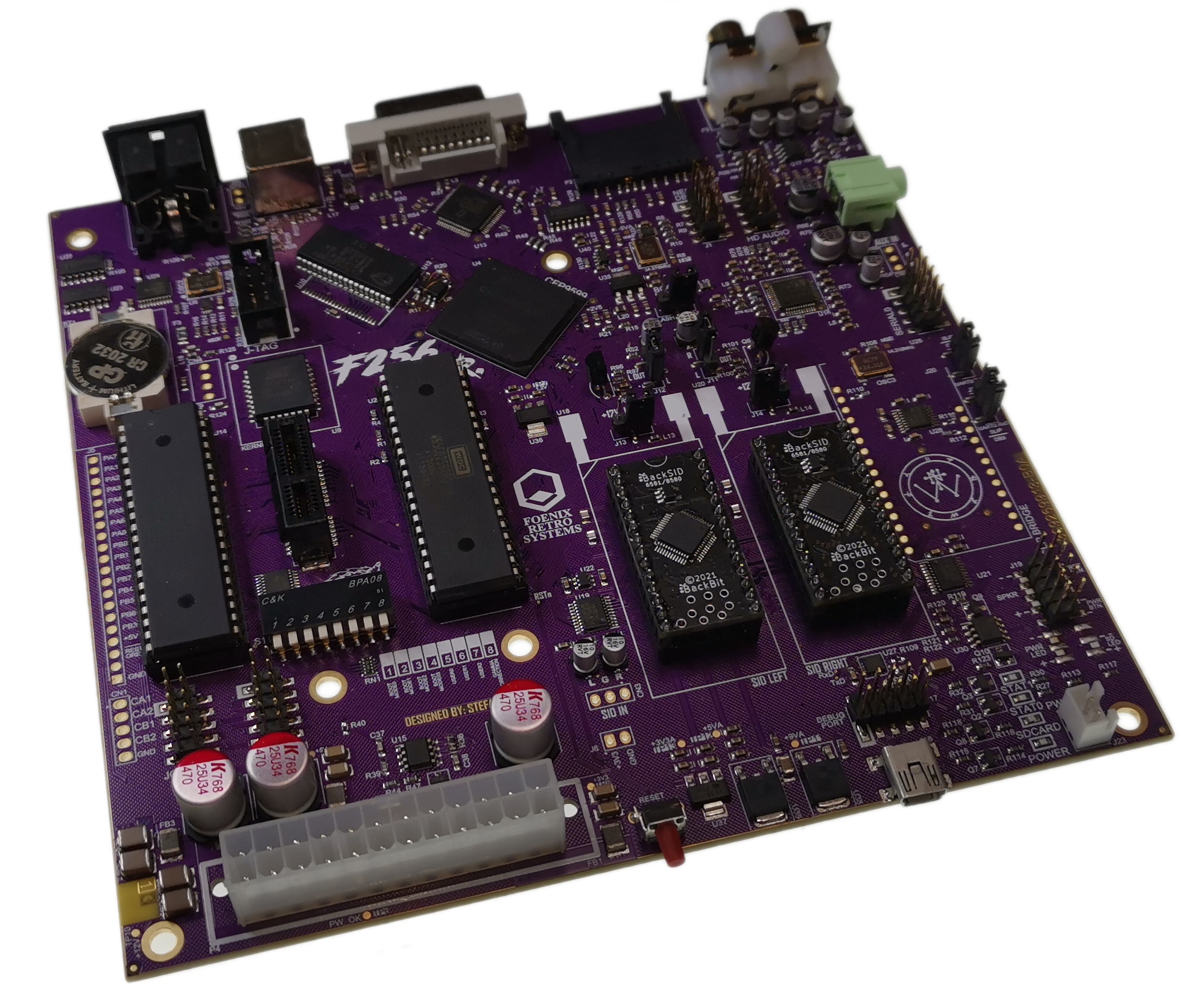 General Specifications

SYSTEM


Low-Cost WDC W65C02S System
CPU: WDC65C02 @ 6.29Mhz (Available)



System General Memory
256KBytes Static RAM
512KBytes FLASH

Options (extra cost)
TQFP or DIP (Socket) for CPU

ZIF Sockets for the SIDs

256K RAM Expansion Module (Code Memory)
Future Options
65C816 CPU Support @ 6.29Mhz (Need the DIP Socket for Upgrade)


FNX6809

CPU Upgrade @ 6.29Mhz (Custom HD6803/MC6809) for the F256 Jr Socket.
Software Support
Comes with an Installed (Flashed) micro-kernel & SuperBASIC on BOOT
Can be reflashed with user software
USB background debug port to read and write directly in memory to speed up development
Reference Manual
https://github.com/pweingar/C256jrManual/blob/main/tex/f256jr_ref.pdf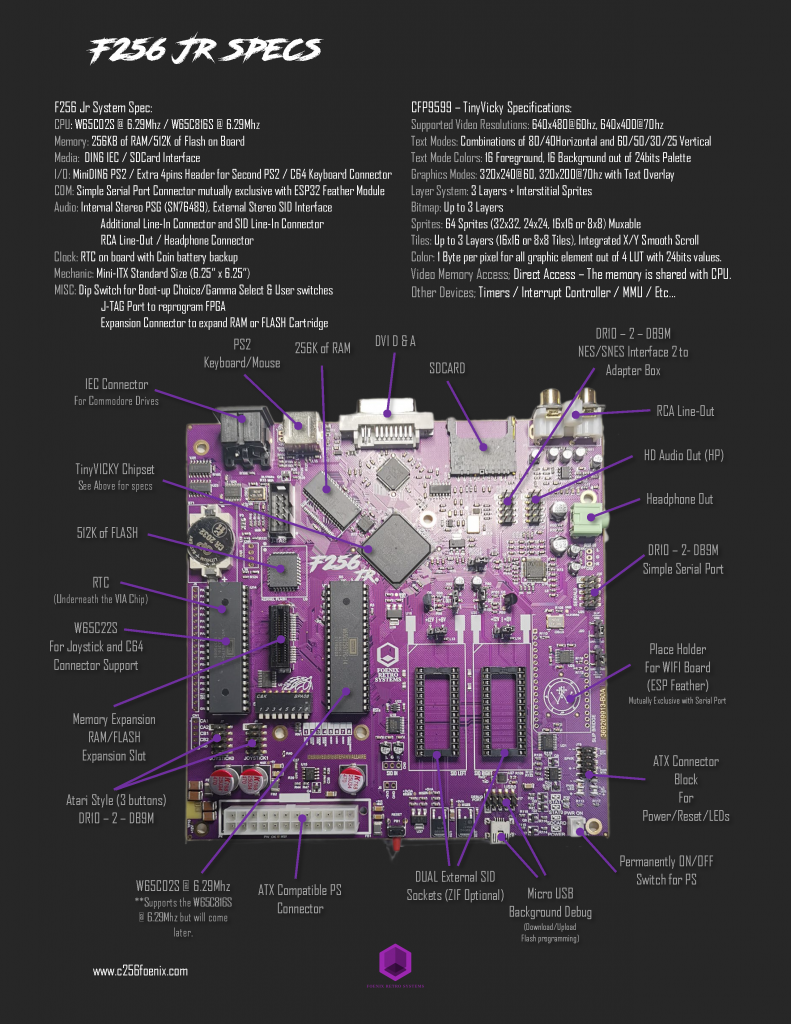 VIDEO SUB-SYSTEM
Graphics Engine
TinyVicky (CFP9599)
Resolutions
Text Modes:
80×60, 40×60, 80×30, 40×30 (@ 60Hz)
80×50, 40×50, 80×25, 40×25 (@ 70Hz)
Graphics Modes:
320×240 @ 60Hz
320×200 @ 70Hz
Color Depth
256 Colors – 8bits Per Pixel – For All Modes. (4x LUT)
Graphics Engine Features
3 Layer System + Interstitial Sprites Layer
Can be any choices of Bitmap or Tiles.
Out of 3x Bitmap Layers
Out of 3x Tilemap Layers
64x Sprites Muxable (8×8, 16×16, 24×24, 32×32)
DMA Engine (Non-Transparent)

SYSTEM MISC



Media
IEC Port – Commodore Drive
Full-Size SDCard

Communication Ports
1x Simple UART Port or WIFI (ESP Feather Board)
Joysticks
2x Atari Style Input (Through the VIA)
1x NES/SNES Connector for NES/SNES Adapter (excluded)
Others
Single Row Connector to interface with C64 Keyboard or to use as a IO Connector.
Expansion Connector to allow Memory Expansion or Else.
AUDIO SUB-SYSTEM
FPGA Sound

2x Instances of PSG – SN76489
3x Voices Per Channel or 6x Voices Mono
Stereo SID Unpopulated Sockets
2x SID with +9V/+12V power rail & Mono/Stereo select
Accessible Analog Input
Audio Sampling
No DAC Port (as of the writing of this specs)
Misc
RCA Stereo Line-Out
1/8″ inch Headphone Output Connector
MECHANICAL SPECS
Enclosure Dimension
6.75″x6.75″ Mini-ITX Standard Form Factor
Product Weight 
TBD